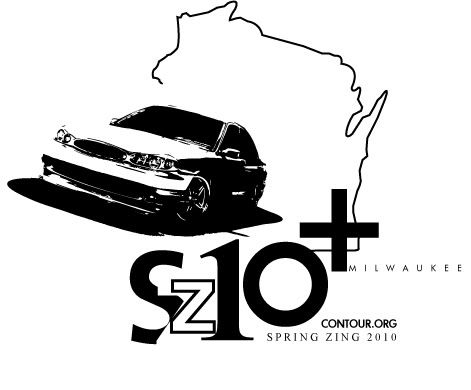 SZ2010 Official dates:
May 20-23
There are still loose ends we're tying up on several fronts, so we'll have all additional information as we get it set in stone. Mike and I appreciate all of your patience.
Hotel Information:
Comfort Suites Milwaukee Airport
6362 S. 13th Street
Oak Creek, WI 53154
(414) 570-1111
ask for Tami
$85/night for "Contour Enthusiasts Group"
See attached for more hotel info
Poolside suites are not included in the group rate, but you may reserve one at regular price if you wish

Thursday:
Meet n' greet @
Great Lakes Dragaway
18411 1st Street
Union Grove, WI 53182
Gates open at 5:00
Cost: $35.00 per driver. $12.00 per spectators

Friday:
We've got two options to choose from for this years Friday event:
Either tour two of Milwaukee's finest breweries: Miller and Lakefront(lakefront strict 21yo+) -
Caravan leaves the hotel at 11:30
Miller : 12:00 -
http://www.millercoors.com/milwaukee-brewery-tour.aspx
4251 W State Street, Milwaukee, WI 53208
Due to tour schedule changes, we can no longer offer Sprecher brewery
Lakefront :
Strict 21yo+ requirements
, 3:00, arrive as early as possible, this is one of the best around and it fills up quickly!!! $7 includes souvenir pint glass
1872 N. Commerce Street, Milwaukee, WI 53212
OR
Country cruise through some of the areas most beautiful....and curvy....back roads and byways, with a late lunch stop in the middle at our own famous Delafield Brewhause and ending at Lakefront Brewery(see tour information above) for their famous tour and delicious brews.
I would like everyone taking part in the cruise to be available around 10:00 for a quick rundown of the route. The plan is to leave the Hotel parking lot at 10:30
. A lunch from 12:00 - 1:00 and a sampling of their delicious brews at the Brewhause, followed by the second leg of the cruise, which should land us at Lakefront around 2:30 to meet the other brewery tourers. Keep in mind that this route, has only 50 minutes of TOTAL highway time, that means were in for over 2 hours of back road goodness sure to please, broken up nicely with a relaxing lunch at a great venue.
3832 Hillside Drive, Delafield, WI 53018
http://www.delafield-brewhaus.com
Route maps:
http://maps.google.com/maps/ms?hl=en...ec2d57a80&z=10
Followed by:
Friday Night Wings:
http://www.contour.org/ceg-vb/showth...ighlight=wings

Saturday:

10am - 4pm
Show & Shine
Wisconsin Auto Museum
147 N. Rural Street
Hartford, WI 53027
Fridays cruise route runs very near the S&S location, for those that are interested a country drive route to S&S will be available.
6pm - ???
Buffet Dinner at the hotel
Awards, raffle, and other special events after dinner

Sunday:
Auto-X at Miller Park with the Milwaukee Porsche Club -
http://www.porschepark.org/events/autocross.php
201 South 46th Street
Milwaukee, WI 53214
8:00 AM - 3:00 PM
"I typically like to give drivers a minimum of 1 practice and 8 timed runs. The per driver cost for non-Porsche club members for the event will be $55-$60 depending on my final lot rental cost from the Milwaukee Brewers."