***EDIT: I have gotten a few questions about an outright sale so I would let the car go for $7000 OBO. Keep in mind the mileage on the motor, trans, chassis and all the BRAND NEW suspension/body/chassis parts. I paid $8000 (plus shipping) for this car a few months ago and have put $1000 into it since then. With a small amount of work this car could be a show winner or be an uber-clean daily driver as is

Depending on the buyer's budget the car can be sold without certain items (Nav Radio, Radio Upgrade Modules, Tune, wheels/tires, etc.) to get the car into a more comfortable range!***
Decided I want to go in a different direction so putting this extremely clean 1998.5 Silver Frost CSVT up for sale. I just purchased it a few months ago and have put less than 2000 miles on it total. In total, I paid over $8000 for this car and have put over $1000 and 100 hours into it since I got it. All in all I don't feel like I would be too far off base saying it is one of the top 10 cleanest unmolested SVT Contours still on the road today. I am extremely picky and have gone over literally every inch of this car with a fine toothed comb. Almost every part of this car has been refurbished or replaced in one way or another. The Odometer says the chassis has 76,xxx miles, but the title (clean Indiana title) says exempt and the CarFax has conflicting readings. Either way, every wear part on this car has been replaced!
Here is the overall build sheet for the car at this point (I'm sure I'm missing things like chrome antenna base/sail panels, end links, etc.):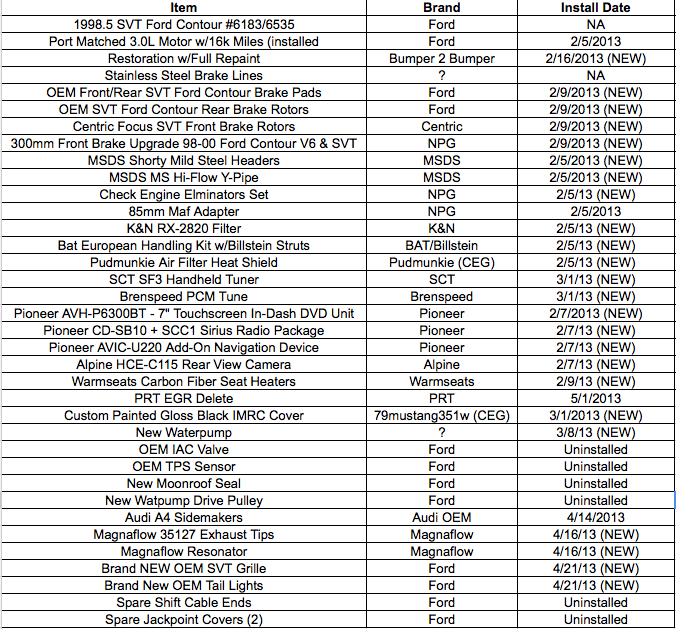 The parts that are uninstalled are going on this weekend save for the pulley. At that point the only things the car will need mechanically are the pulley swap (half hour labor) and new A/C o-rings on the compressor (leaks slowly still blows cold) but for the right trade I can take care of both before pick up.
Cosmetically, the car is in excellent shape. ZERO rust and a fresh repaint. The paint itself isn't flawless but I have put a TON of time into making it look amazing. There are also a few scratches/chips on the front/rear bumpers from normal city parking and the EAP FSVT wheels won't win any awards but they look pretty good and have brand new tires on them. If you are interested I can have the wheels sandblasted/powdercoated for $240. No cracks on the bumpers/skirts or structural damage anywhere on the car. Never been in an accident.
I am pretty open to trades but the types of car I am most interested in are: Subaru (Sedan or Hatch), SVT Focus, etc. I am more than happy to drive a few hours to come check out your potential trade if it is something I am interested. Feel free to PM me for more information or to make a trade/offer.
Pics (all within the last few weeks):
Before FSVT Wheels/Spoiler/Oval Overlays: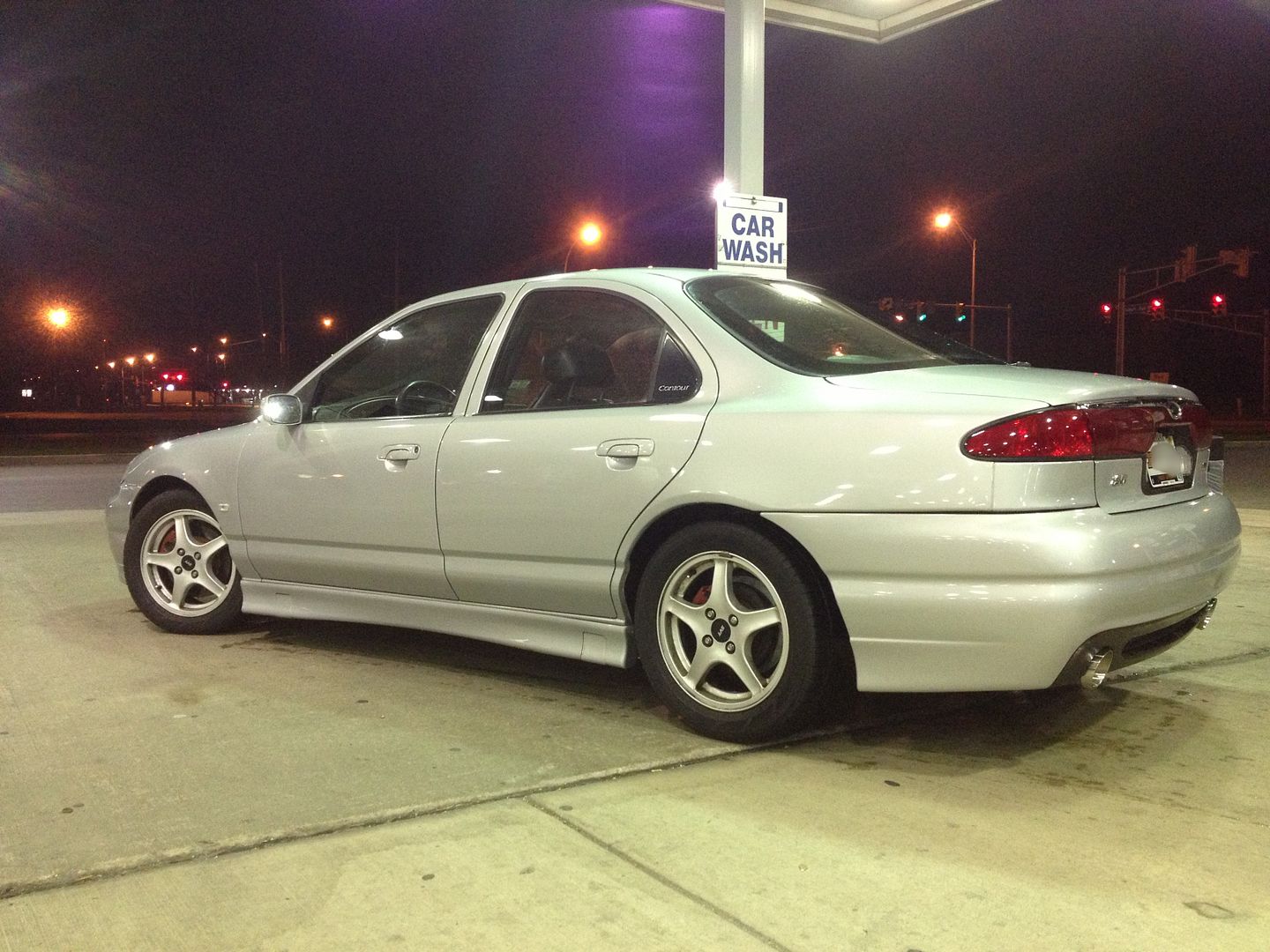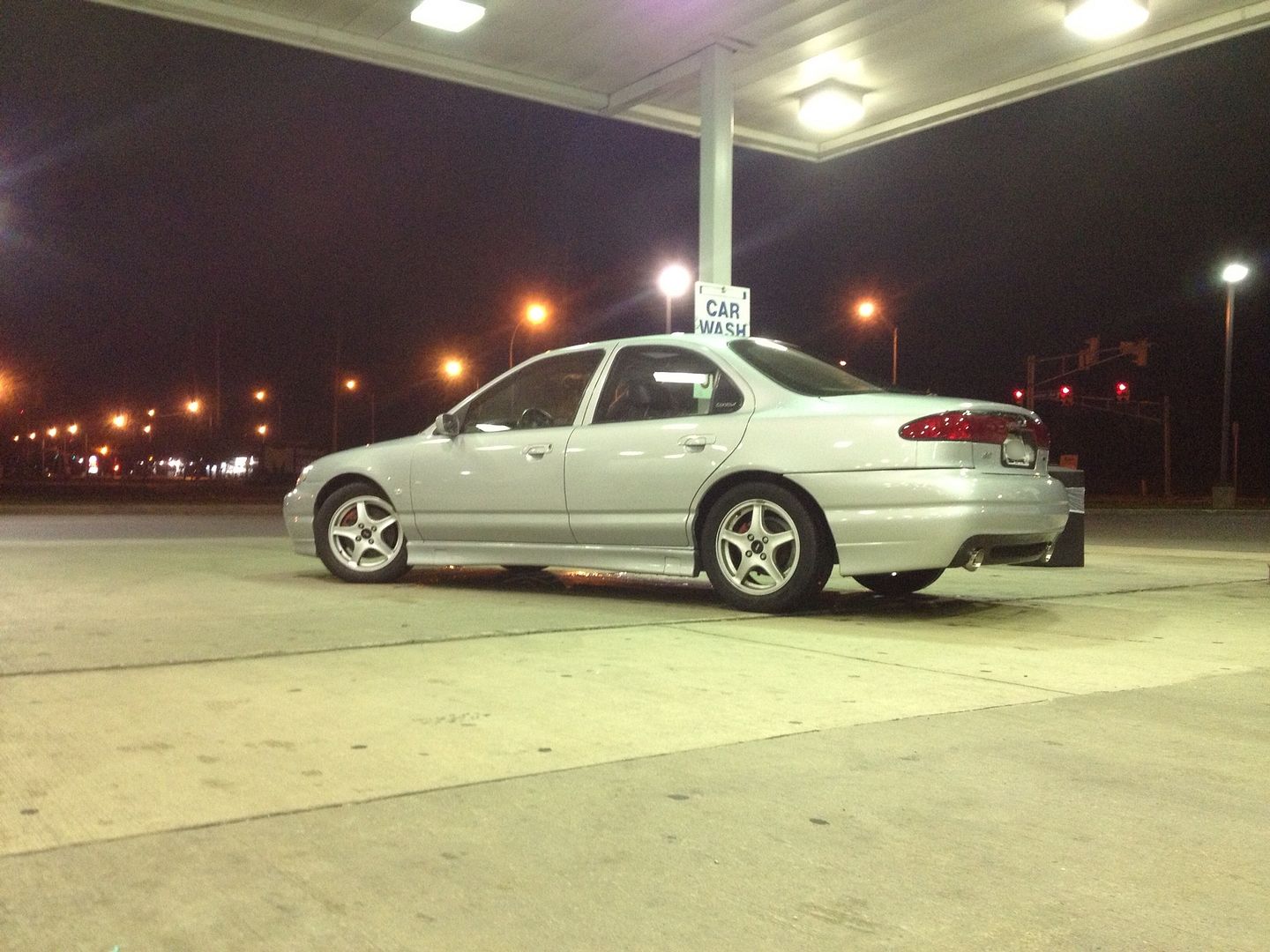 With Professionally Painted/Installed OEM spoiler (LED Light) and Oval Overlays: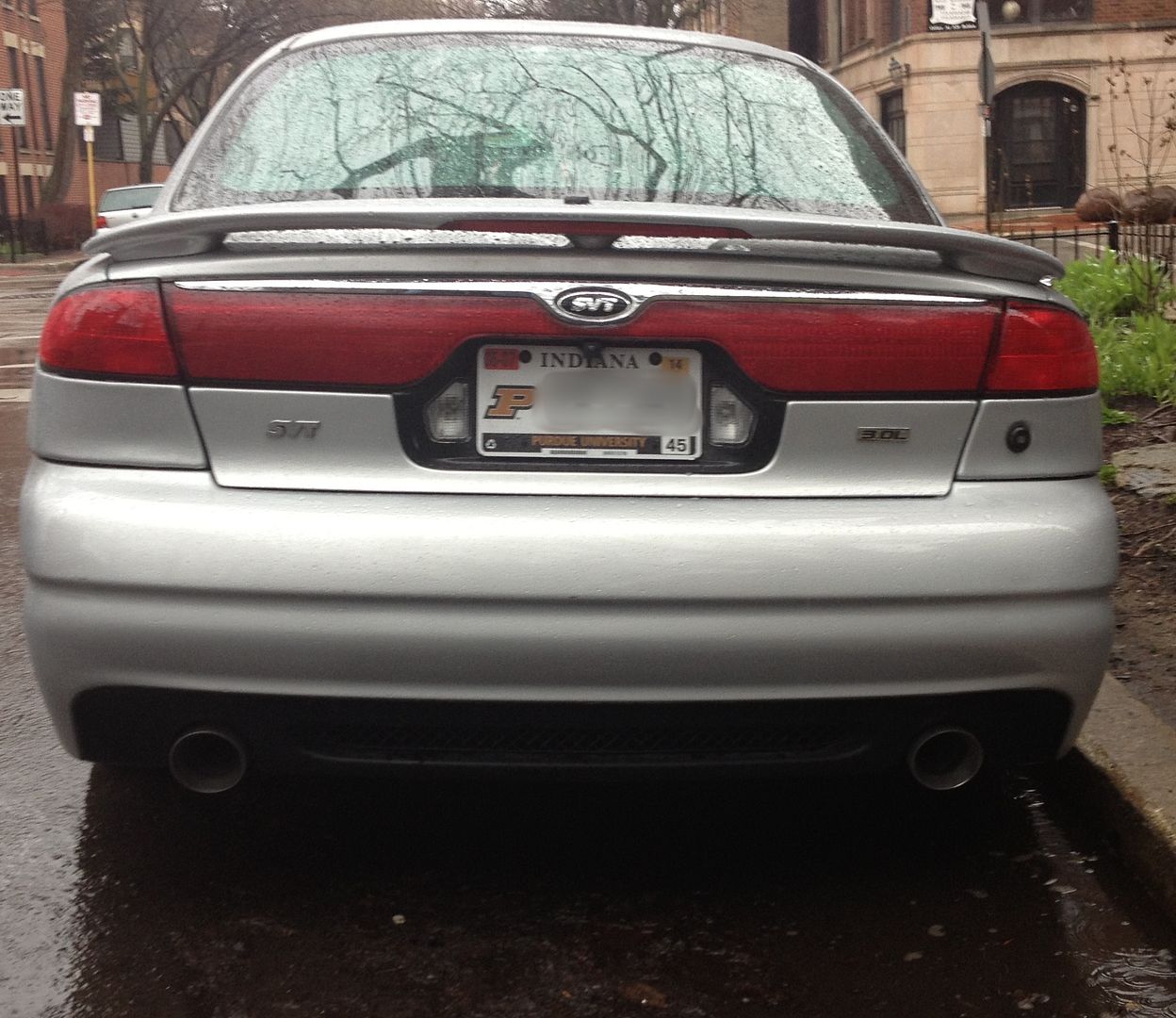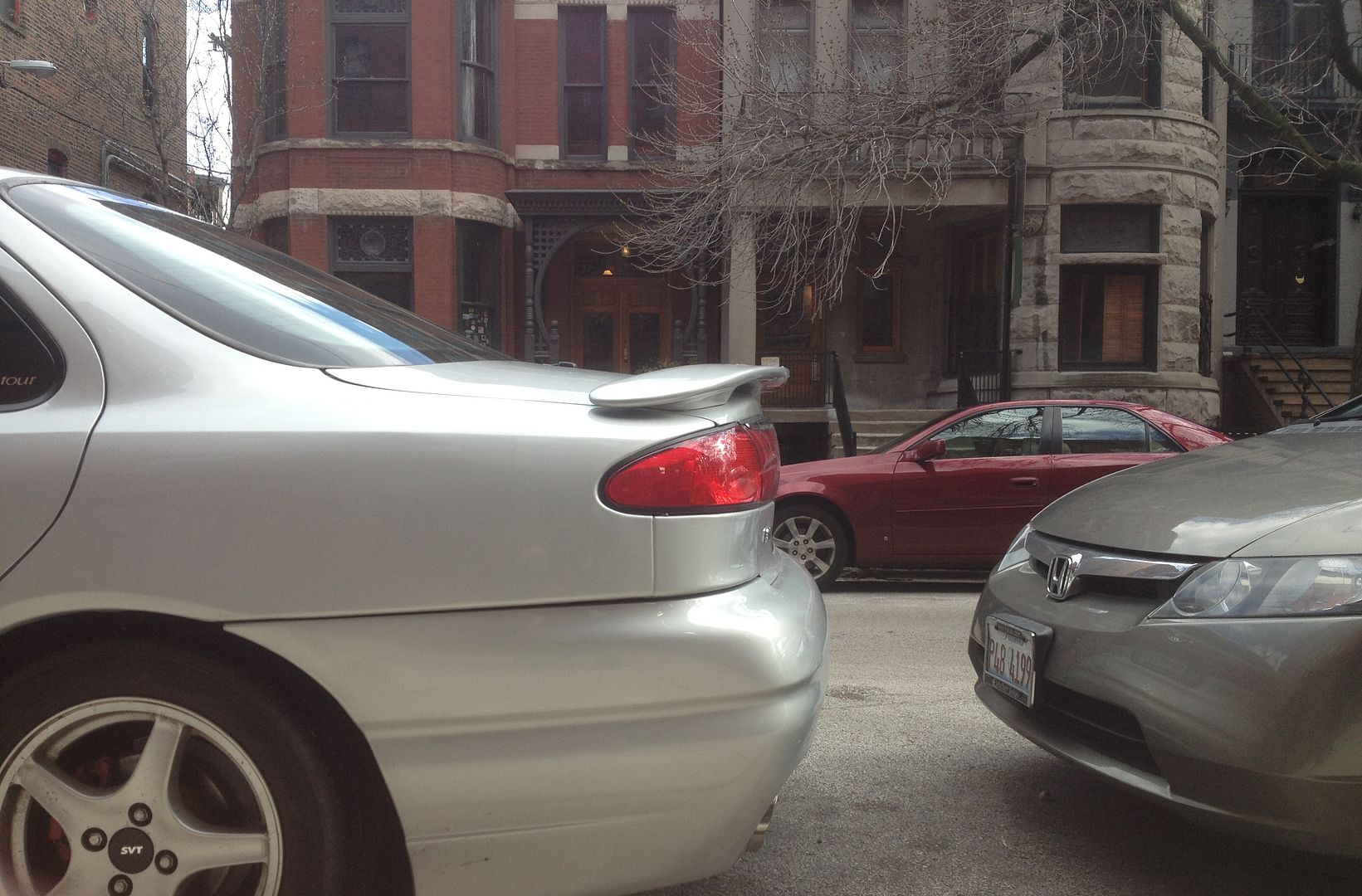 As she sits now: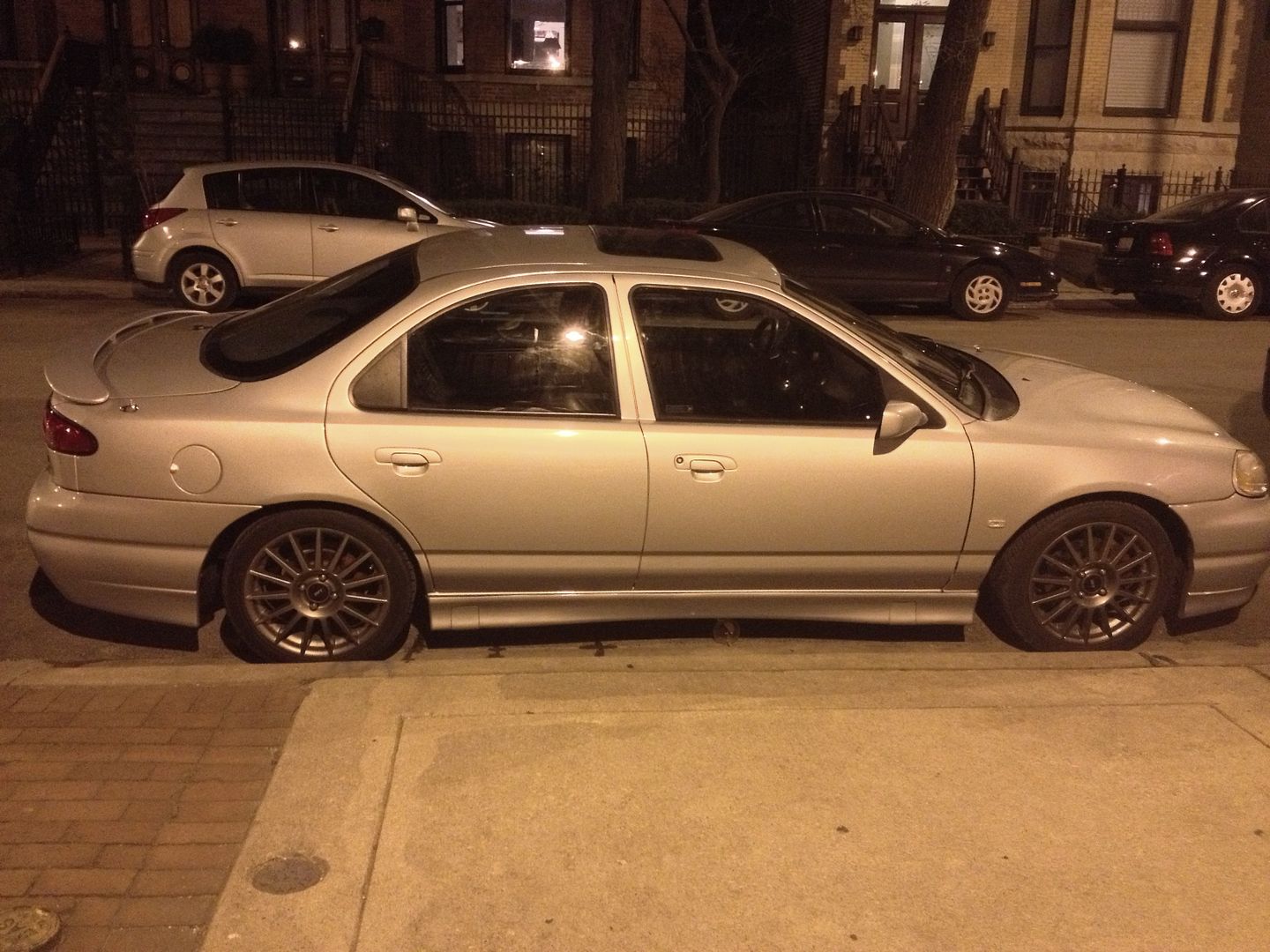 Engine Bay (pre-EGR delete):