A resonator is a a pipe. Inside the pipe is like a screen mesh that wraps the inside walls of the pipe. Between the mesh and pipe is a layer of suppressant fiber material. Nothing is obstructing the pipe itself. So it flows great.
Now a muffler has several types of designs.
Some have what we call baffles. Plates welded on the inside to help send exhaust flow in patterns. Which helps reduce sound. These type of mufflers really do reduce sound the best. On the other hand they also restrict the flow more. Because it has canals that exhaust must follow. So it takes longer for the exhaust to exit the muffler. Like in this picture.
Then you have some series of mufflers that are a straight through design. Like for example the maganaflow race series. In this series it offers a muffler that has no baffles. But A style kinda like a resonator. It has the wire mesh that is inside a resonator. But they place this circular wire mesh threw a muffler. The rest of the body of the muffler they place a fiberglass detonating material to help absorb the sound. Seeing that this design has alot less of an obstruction the volume of sound is increased over the baffle style system.
Perfect example is this picture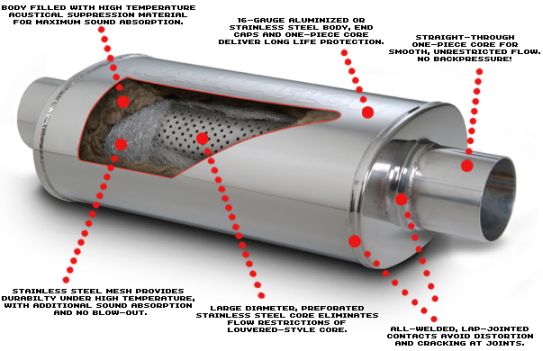 Now this is the tip of the iceburg. There are many muffler designs out there. You just have to find the style/sound you are looking for.
How To's
Gutting y pipe
http://www.contour.org/mods/mods.php...o&displayid=27