There are lot of terms being tossed around about the various 3.0L engine combinations commonly used on this board. Some make sense, some don't. I'm not trying to redefine the terms or overcomplicate things with yet another explanation. I'm just making an attempt to simplify things for clear discussion and for the benefit of new members.
To simplify matters, engine combinations should be discussed in terms of
block, heads, and intakes
. As I see it, there is one stock and three modified V6 engine setups that work on this platform. These engines comes with different camshaft options, intake options, throttle body options, etc., but for our discussion, when talking about the ENGINE, we won't include which cam, which Contour intake, which Contour throttle body, or what size injectors. Just block, heads, and intakes.
The first is a
Stock 2.5L
engine from the factory.
It has

2.5L block, 2.5L heads, and 2.5L intakes.
This setup came on V6 equipped Contours, Mystiques, and Cougars. The SVT had better cams, better flowing intakes, etc., but just reread the previous paragraph so we all don't get confused. We're talking only about the engine combo. Here's a visual: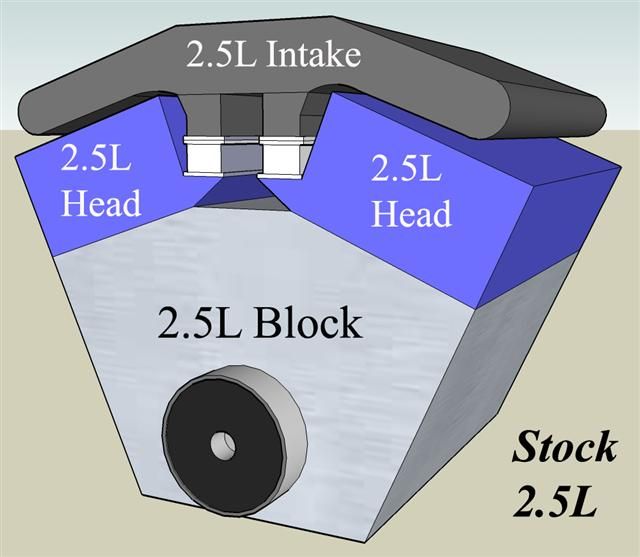 When you blow up this engine, you may wish to upgrade to a 3.0L engine. As I see it, there are three engine options available with many different variations. The following are the three options.
The first upgrade to a larger block is a
Hybrid
. This term is thrown around all over the place and is used, often times, incorrectly.
A Hybrid

engine is one that uses a

3.0L block, 2.5L heads, and 2.5L intakes.
It is called a Hybrid due to the fact that it uses a block and the heads from two different sized engines. You can learn about what it takes to install a Hybrid into your vehicle by searching the archives. Here's an image: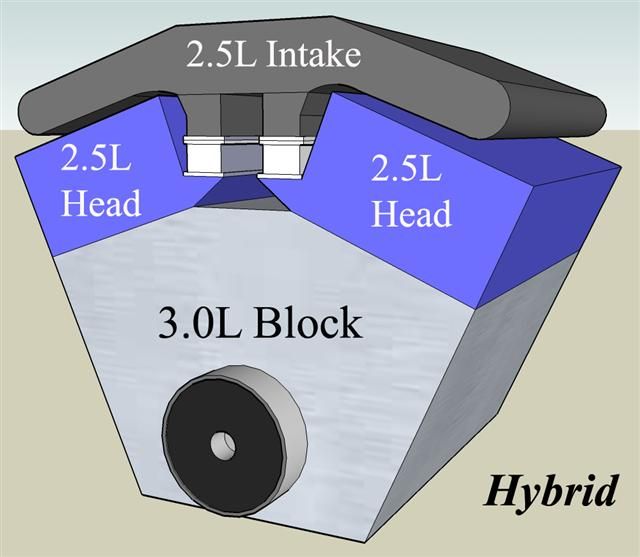 The next three liter engine is a
Port Matched 3.0L
. This combination uses
3.0L block, 3.0L heads, and 2.5L intakes
. Due to the fact that the intake ports on the 3.0L heads differ from the ports on the 2.5L intakes, you have to
match the ports
to make them work together. Here's an image: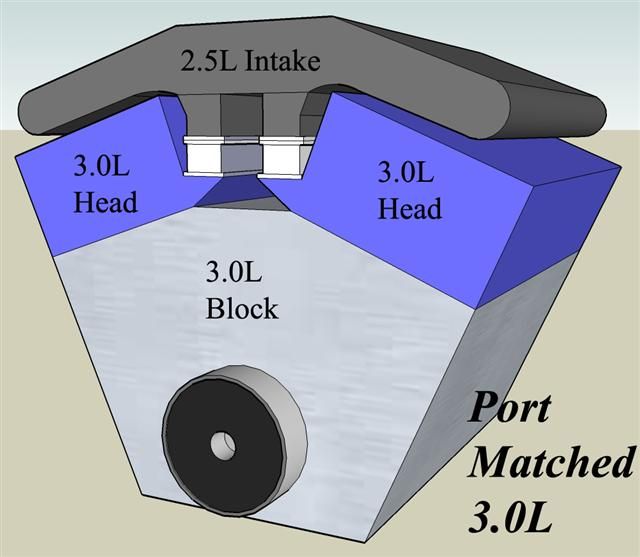 The third combo you may wish to use is sometimes called a
Full 3.0L
. I really don't care for this name because it is ambiguous. The name doesn't indicate what type of engine it is. A better name might be a
Long Block 3.0L
but as long as everyone is clear about what the name means, who cares? In any case, this combination utilizes a
3.0L block, 3.0L heads, and 3.0L intake
. Here's an image.
You have a lot of options within these engines, but I don't think the name of the combo should change just because you used SVT cams or if your 3.0L intake came from an Escape.