I mentioned in one of my first posts that I was going to go ITB on my 3.0L V6 turbocharged engine.
Firstly let me just say that I am running the 3.0L V6 with the stock plastic intake system (both upper and lower intake manifold) and throttle body which is actually extremely efficient as I am running over 700bhp and 8000rpm from the single turbo setup i developed for my car.
The reason for going ITB is that I want to go DBW and on my car the engine is on display..... Additionally at the same time I am replacing the Motec M800 ecu I currently run with a new Motec M150, upgrading to even bigger injectors and more powerful coil packs (purely for some extra safety margin).
Therefore I was making so many changes I decided that I would take the opportunity to design new intake plenum with shorter runners to better suit my high raving engine, at the same time fitting ITB will also be worthwhile as it allows me to run a larger plenum without the downsides in engine performance along with retaining my current awesome throttle response.
Plus I do love a challenge and designing something new :)
First off I needed to do some calculations on the runner lengths, I measured existing ones and with my cam timing found that their lengths were optimised for 6000rpm, which makes sense considering the intake is from an auto SUV that revs to 6500rpm.
I then measure how long mine could be if i made the intakes straight and still fit the plenum under my bodywork.... it raised the optimum to 7200rpm which i decided would be perfect as I will gain from the more efficient airflow and still be well inside my optimum range.
I then designed the plenum.... now usually people say the plenum should be 1.75-2 times the engines capacity... however that rule of thumb simple does not apply to ITB and actually the very best plenum for ITB is an infinite size one (open to atmosphere). HOWEVER my car is charged, therefore too large a plenum could add lag so whilst my plenum is much larger than a normal throttle body car, its not so large as to add any measurable lag.
For information my plenum is actually about the same volume as a BMW E36 M3 which is a 3.2L NA straight 6.
The setup is not finished as I also had to design my own lower inlet manifold, but here are some pics of the WIP.
Took a lot more time to come up with a workable ITB that fits the engine.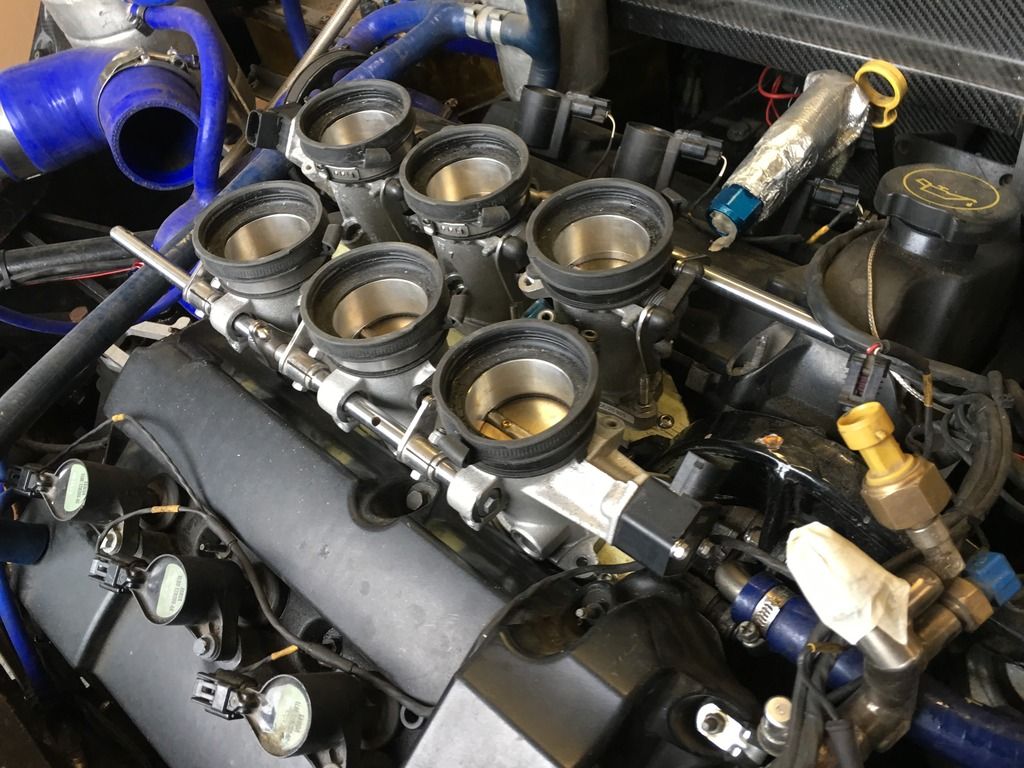 Once the ITB design was complete I mocked up the plenum in perspex to get a good visual impression of the entire setup.
When the plenum design was decided on I made a buck in G/F and then made sure it actually fitted in the engine bay and cleared the bodywork.... was a relief when it all fitted lol
Preped the plenum buck ready for taking moulds, I will make it in carbon.